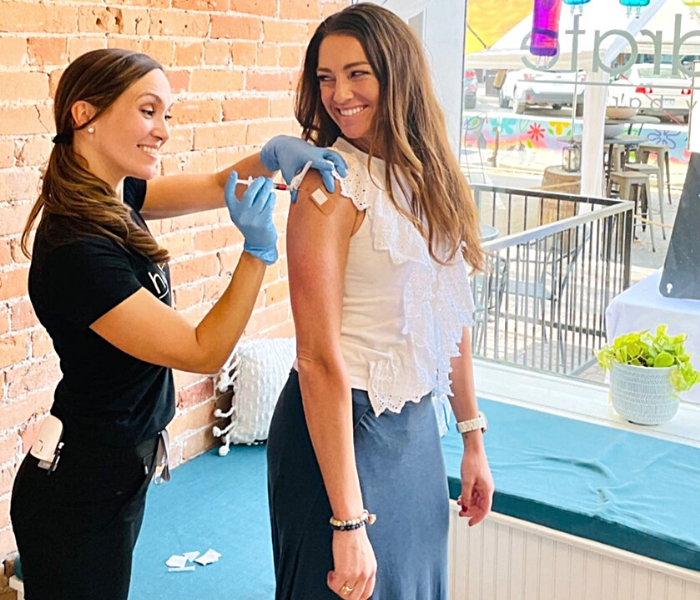 New to the world of IV immunity therapy? Ready to take a new approach to your wellness journey?
Get an exclusive discount: 50% off our Tri-Immune shot!
Have a question or need help booking your appointment? Choose your home spa here for contact information. Or select your spa below to enjoy your Tri-Immune Shot.
*Deal is first-time client offer only; limit 1 per client*

The Tri-Immune injection is made up of glutathione, zinc, and vitaminc C — a power-packed trio all in one injection that your immune system loves the most.
What makes this injection so powerful, though? Let's take a look. Glutathione is a master antioxidant that supports your immune system while reducing oxidative stress and free radicals. Zinc plays an essential role in wound healing, reduction of inflammation, and boosting immune system function. And last but not least, vitamin C helps with the growth, development, and repairing of all body tissues, can aid in the absorption of iron, and helps with the maintenance of cartilage, bones, and teeth.
These injections are typically given intragluteally. Our Tri-Immune injections can be added to any of our IV therapy services, while walk-in appointments are welcome — single Tri-Immune injection appointments take around 15 minutes.
Did You Know?
The Tri-Immune injection is a great, quick substitue for an IV if you're running short on time and don't have 45 minutes to spare for your favorite IV cocktail.
It's a small, but mighty boost for your immune system! Book your 50% off Tri-Immune shot today!