Holiday gifts are here! Click here to shop our selection.
Hydrate IV Bar invites you to…
End the year on a holly, jolly and HEALTHY note by tuning into our FREE online Healthy Holiday Series!
We've partnered with a few of our fellow wellness-advocate friends for an incredible line-up of online events — happening over Zoom at 8 a.m. every Wednesday morning, from November 11 through the end of the year! You're invited to tune in live, or sign up to receive the recordings as they air to enjoy on your own time. 
Bid adieu to 2020 with a few of our favorites…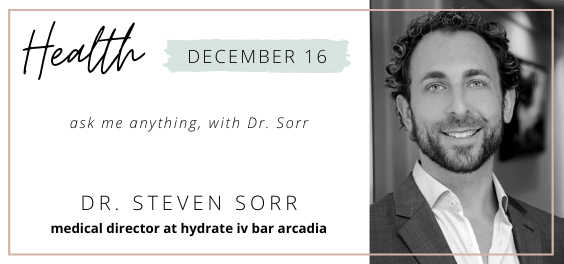 December 16
Ask a Doctor with Dr. Steven Sorr, Medical Director at Hydrate IV Bar Arcadia 
(opening soon in Arizona!)