IV Therapy Franchise Opportunities With Hydrate IV Bar
Are you ready to run a business with hustle and heart?
Owning a Hydrate IV Bar spa may be the perfect health and wellness franchise opportunity for you.
Join the Hydrate IV Bar Collective
We're On a Mission
to promote wellness from within by delivering high-quality products and services administered by experienced and trustworthy medical and wellness professionals in a relaxing, spa-like atmosphere.
Why invest in an IV Therapy Franchise?
Booming Industry
Globally, health and wellness is over a $4 trillion industry, and it's for a good reason — more consumers than ever before view spending on  long-term vitality as an investment and not an expense. Culturally, we've expanded our definition of healthcare beyond the doctor's office to include preventative wellness of all kinds: from yoga and chiropractors to acupuncture and IV therapy.
Although IV therapy has been used by doctors for decades, its popularity spiked in recent years as it became more accessible to the general public through IV bars, alternative wellness clinics and spas. What was once exclusively available to the big cities' elite to fix hangovers has evolved into an essential part health-conscious consumers' weekly or monthly routines across the country. Now, thousands of people in cities across the US order IV drips for anti-aging, athletic performance, jet lag, relaxation, relief and more.
Powerful Purpose
There are a lot of companies you could partner with to open an IV therapy franchise. So, why us?
Hydrate IV Bar is about so much more than IVs, we're family. And like most strong families, we stand firm in our values and mission. We want to make people feel good in their bodies, but we want that change to be fueled by an atmosphere of worthiness, purpose, and support.
We know that personal wellness is different for everyone, and we are just one part of a larger puzzle. However, we are committed to changing the conversation around health and wellness in the industry at-large to be one that is more inclusive, diverse, and positive. We encourage others to invest in wellness and self-care because they're already deserving and worth it, not because they need to change or "be better." People are drawn to Hydrate IV Bar because we make guests feel good about themselves in the present moment. Who doesn't want more of that?
Established Relationships
There's a lot that goes into opening a Health and Wellness Franchise business like ours. While there are many obstacles all small business owners face (navigating insurance, finance, HR, etc.), owning an IV therapy franchise is even more involved. There's medical bureaucracy to wade through, pharmacies and suppliers to vet, and strict compliance to uphold. As 7+ year veterans in the industry, we've already vaulted many of these hurdles so you don't have to. We already have the relationships in place that you'll need to get your business up and running effectively in less time.
Proven Success
It's hard out there for a small business owner. Did you know 45% of businesses shutter before their fifth birthday? Most attribute that failure to lack of funding, managerial support, infrastructure, and marketing.
We've already proven our ability to overcome the most common obstacles that entrepreneurs face, and we're passionate about helping you do it too.
We know it because we've lived it. The Denver metro area lands in the top five healthiest areas in the United States on most reports. As a result, the competition in the wellness space is fierce. While northern Colorado surpassed 19,000 wellness companies in 2017, we were able to sustain growth within the crowded (and often cannibalized) market to open five successful spas in four years. We've had time to experiment with different strategies across all areas of our business to optimize what works and deliver our IV therapy franchise partners with a fine-tuned model with proven success.

Ongoing Support
We call our staff #TeamHydrate for a reason — when you join us, you instantly become an integral part of our network
. As your teammates, we are invested in your entire journey to ownership.
It's not enough to have the playbook. True business success relies on ongoing industry knowledge, connection, resources, training, and community. With Hydrate IV Bar, you're gaining a network of support that's here for you every step of the way — with online and in-person training programs, weekly mentorship calls, and tailored education to meet your specific needs. Our health and wellness franchise team includes experts in all areas you'll need to successfully own an IV therapy business, including medical, hospitality, operations, marketing, business development, site selection and more.
#TeamHydrate's skillset is diverse enough to combat any obstacles that arise during business ownership. We stick with you beyond the opening of your spa and continue to offer ongoing support as needed — from marketing and design to inventory and management, we've got you covered. Every successful leader knows the importance of mentorship. When you join #TeamHydrate, you open the door to mentorship from a team of wellness professionals with decades of entrepreneurial experience in the wellness space. 

States Currently Open for
Hydrate IV Bar Franchising
*if a state you're interested in isn't currently open, please fill out our inquiry form ⁠— our franchise program is continuing to grow + we will get in touch as these areas open.*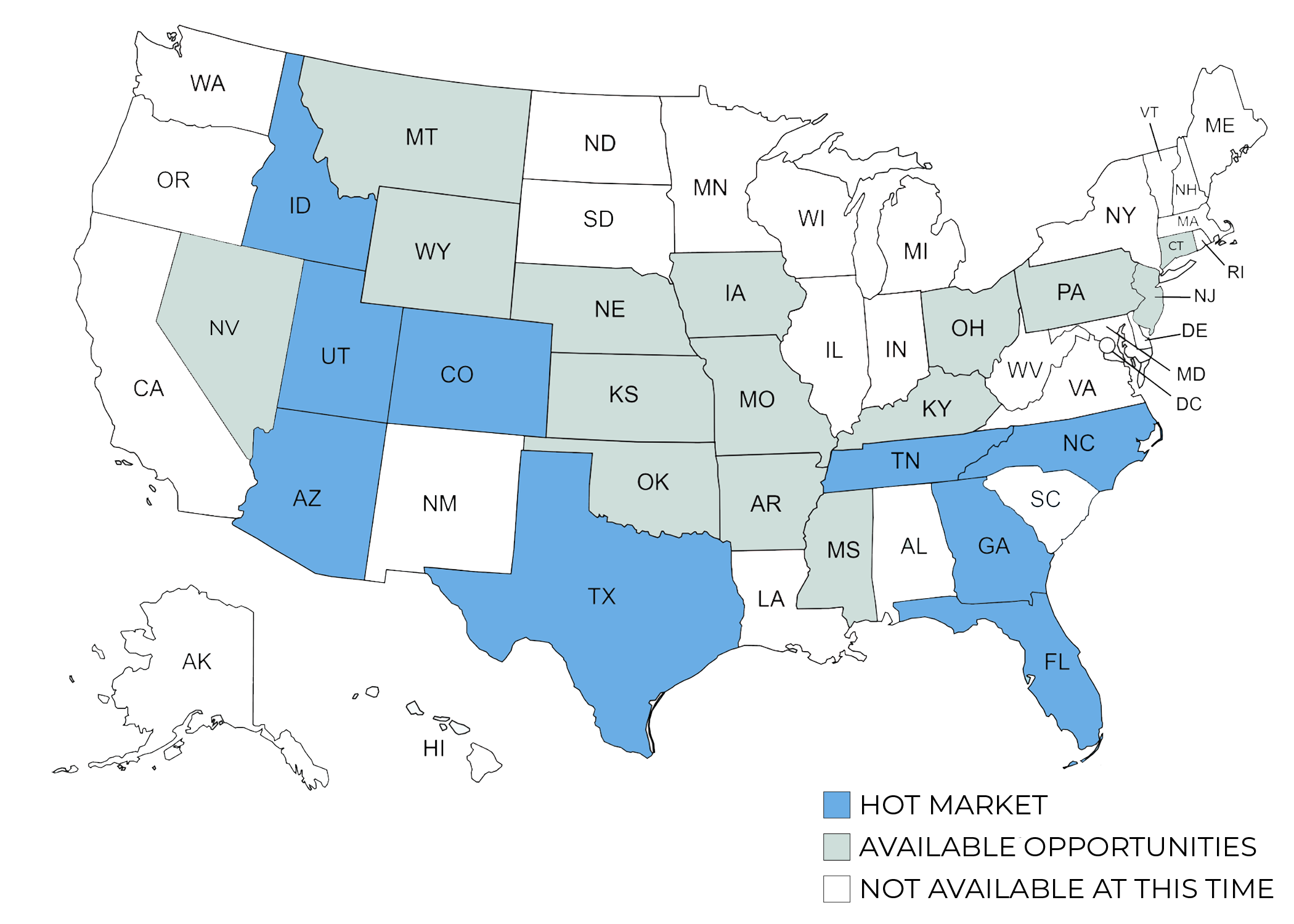 HYDRATE IV BAR FRANCHISE TESTIMONIALS
Interested in a health and Wellness Franchise Opportunity?

Let's Chat.
If you are interested in financing options, we have partnered with Benetrends to jumpstart your entrepreneurial journey!
Funding is one of the most important components in buying a franchise/business. Benetrends has been funding America's entrepreneurs for over 35 years, offering a comprehensive suite of funding options covering nearly every type of business situation. The most popular programs are the Rainmaker Plan® (IRA/Rollover) and SBA small business loan programs. And they continue to provide innovative solutions, with their newest funding option, The Rainmaker Advantage Plan®. This corporate capitalization strategy is designed to mitigate or eliminate the taxes due on the sale of a business. Benetrends also offers Securities Backed Line of Credit and Equipment Leasing.
What is Your "Fundability"?
Pre-Qualify for funding to determine how much and what sources of options are available to you. Plus, you'll have faster access to funding, allowing you to open your new business sooner.
DISCLAIMER
None of the communications made through this website should be construed as an offer to sell a Hydrate IV Bar franchise, nor is it directed to any resident of a jurisdiction that requires registration of the franchise before it is offered or sold. No Hydrate IV Bar franchise will be sold until a Franchise Disclosure Document ("FDD") has been delivered to a potential franchisee, and if required in the jurisdiction of the franchisee, an effective registration of the FDD with the proper regulatory body in that jurisdiction.