Hydrate IV Bar menu 
IV vitamin therapy cost
Select any IV therapy or injection service below to
learn more. Pricing is consistent across all Hydrate IV Bar spas.
IV vitamin THERAPY COCKTAILS
Our founder's favorite! $5 of each purchase goes to our charity of the month.
ingredients
b-complex, b5, b6, b12, zinc, calcium, magnesium, glutathione, double dose vitamin C
The "kitchen sink" IV, developed by Dr. John Myers. A Hydrate IV Bar client favorite! 
ingredients
b-complex, b5, b6, b12, zinc, calcium, magnesium, vitamin c 
One of our most comprehensive drips. Great to glow from the inside out.
ingredients
b-complex, vitamin c, glutathione, magnesium, 
Popular for endurance, stamina and acceleration of muscle recovery.
ingredients
b-complex, glutathione, magnesium, calcium
Maintain energy, immunity and hydration.
ingredients
vitamin c, b-complex, magnesium
ingredients
vitamin c, zinc, magnesium
Addresses headache, nausea and dehydration.
ingredients
b-complex, vitamin c, b12
For recovery of all kinds: from hangovers to high-altitude.
ingredients
b-complex, magnesium, b6
B.Y.O.I.V.
Want something more customized? Build your own IV cocktail with our add-ons below! Starting at $69.
b12 injection
$30 single, $20 with iv
The b12 shot is our most popular injection with Hydrate IV Bar clients. B12 can regulate metabolism, boost immunity, increase energy levels and assist mental clarity.
Sometimes called "the skinny shot," this combo of vitamins + amino acids can help fire up your metabolism. 
MIC = methionine + choline + inositol + methylcobalamin
Sunshine in a shot! Vitamin D is your immune system's BFF. As we reduce our exposure to the sun, it's easy to become vitamin D deficient — especially in the winter months! 
With glutathione, zinc, and vitamin C all in one injection, the Tri-Immune packs a power trio that your immune system loves most. Great substitute for an IV when you're short on time.
Save with a Package!
All injections can be purchased in with a package discount — buy 5, get 1 free AND buy 10 get 3 free. Packages can be redeemed at any of our IV clinics.
B-COMPLEX — $30
for mood regulation, and healthy hair, skin + nails
CALCIUM — $20
for teeth, bone health and blood pressure
B12 — $20
for metabolism, energy and mental clarity
MAGNESIUM — $20
for nerve and muscle function, mood, natural relaxant
b5 — $20
for digestion, and healthy hair, skin + nails
VITAMIN C — $30
for immune system and tissue repair
b6 — $20
for body to store and use energy more efficiently
Zinc — $20
for immune system, metabolism and healing
GLUTATHIONE — $40
for reducing oxidative stress and improving liver function
KATIE COCKTAIL UPGRADE — $42 FOR MEMBERS, $60 FOR NON-MEMBERS
upgrade your cocktail to our founder's fave! every menu add-on + extra dose of vitamin c
STILL THIRSTY?
Order another round! Add fluids to the end of your IV hydration treatment — $40 for liter, $20 for half liter.
NAD+ IV Infusions…
are now available at all Hydrate IV Bar spas!
NAD+ promotes cell regeneration, and is also beneficial for: better sleep, mental clarity, focus, + energy, the regulation of dopamine and serotonin levels, + stimulating sirtuins (proteins), which have anti-inflammatory properties.
NAD+ IV therapy can also be beneficial for stabilizing hormones, improving mood, increasing metabolism, and clients experiencing joint + muscle pain.
Click 'learn more' for more information + dosage pricing!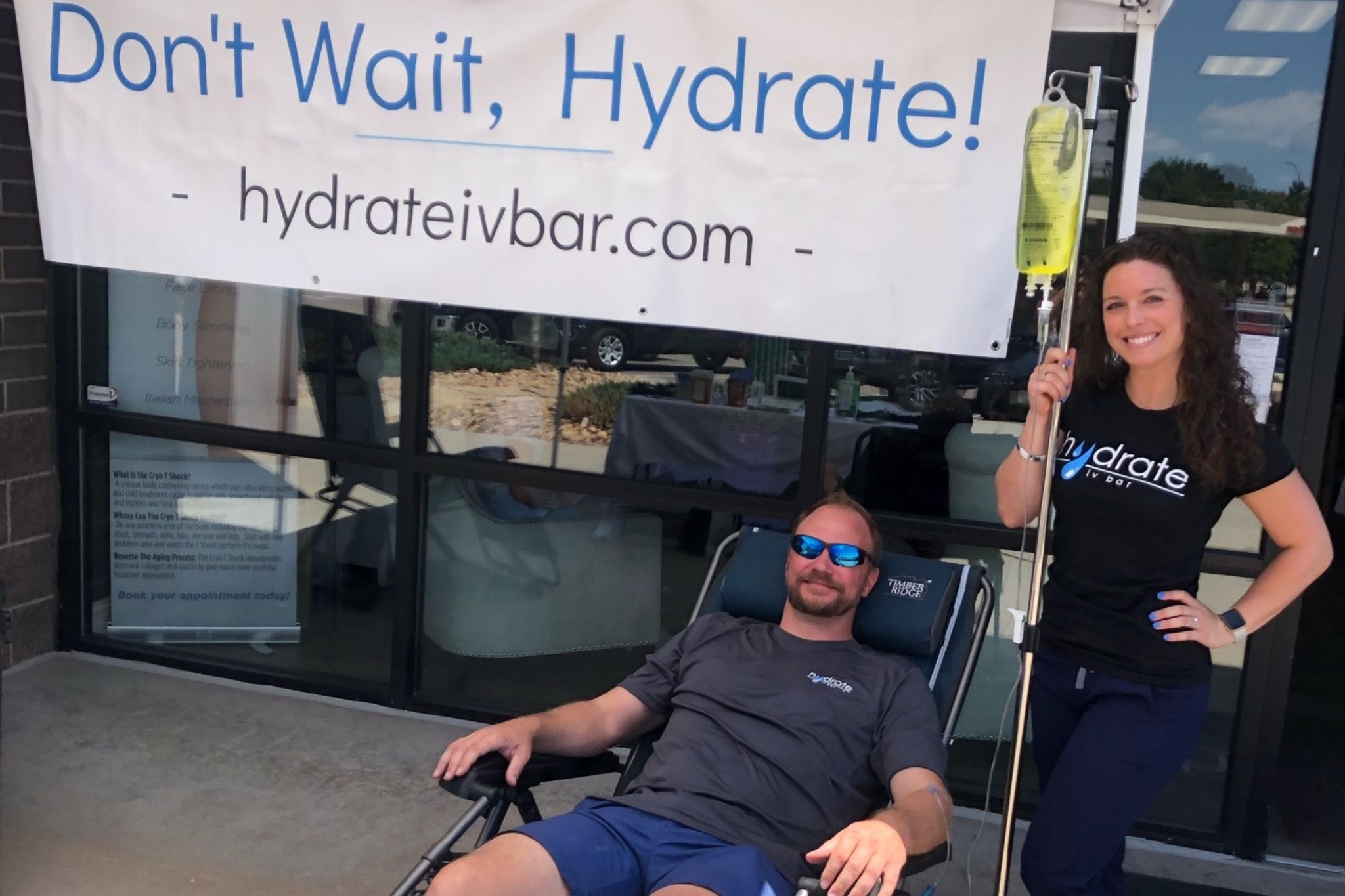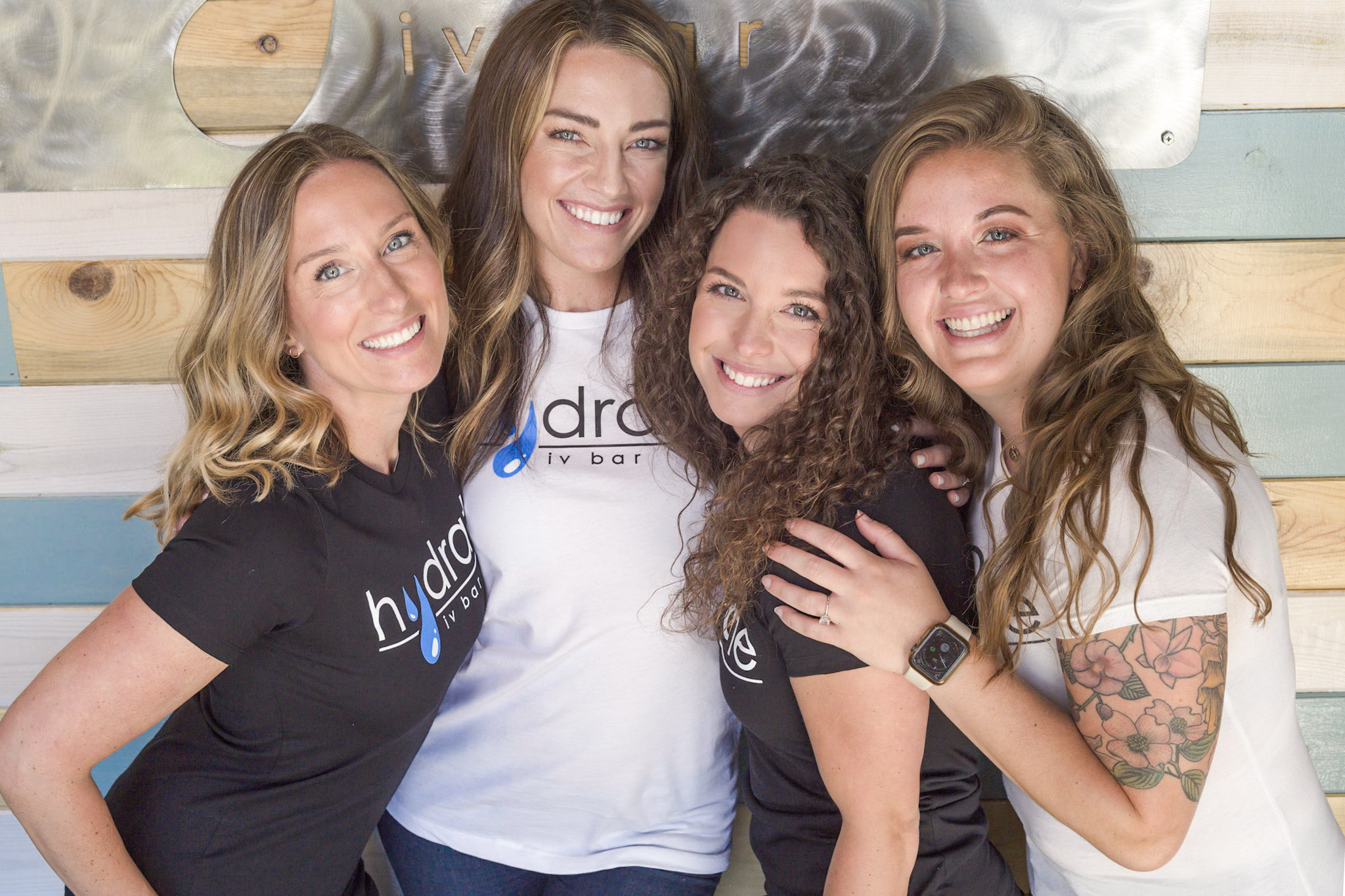 HYDRATE IV BAR MEMBERSHIP
every month, Hydrate members enjoy…
1 IV therapy cocktail

1 b12 injection

10% off retail products

Discounted NAD+ infusion rates

30% off additional visits + add-ons

"Friends with Benefits" passes

Exclusive access to sales + events
$125 per month, $99 for students 
The Shot Pass 
Bottomless shots, anyone? This monthly pass grants you access to our best injection deal ever — 50% off all injections, all the time!
Half-off ALL single injection services — including B12, D3, MIC and Tri-Immune
Limits apply based on efficacy recommendations from our medical director. Learn more. 

Bundle with IV Hydration membership or enjoy on its own.
$50 per month